SoundSteer Technology from Lexicon
Stereophile 1/17/17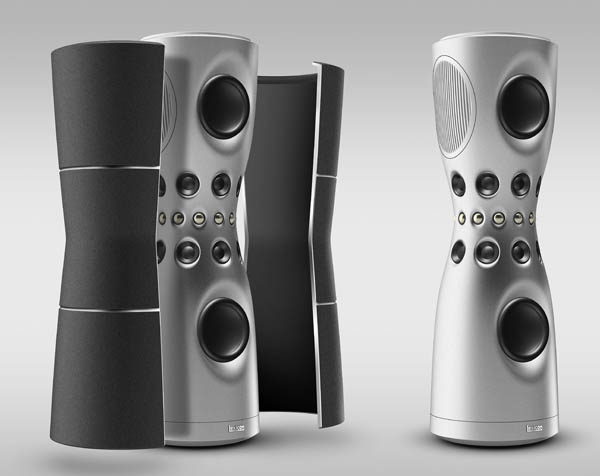 As Stereophile's minister without portfolio, my goal was to find something interesting that didn't quite fit into traditional categories. The prize was an introduction, at a Harman demo room in the Hard Rock Casino/Hotel, to Lexicon's SL-1 loudspeaker prototype (price TBD) and the SoundSteer technology that distinguishes it. It was emphasized that SoundSteer is "highly scalable," and visitors were treated as a focus group to generate ideas for specific products and applications.
The SL-1 prototype is shaped like an hourglass or a dress form. Each waist is belted with 12 dome tweeters flanked, above and below, with two parallel belts, each consisting of 8 midrange drivers. The 4 woofers are paired vertically, with two each in front and two in back. The 22 power amps with over 1250W are controlled by internal DSP and a slick and friendly web app. Speaker placement was asymmetric, with one close to a corner and the other well into the room. Seating, too, was asymmetric with respect to the room and to the speakers.
Jeff Poggi (Harman's Vice President and General Manager, Luxury Audio Business Unit, Lifestyle Division) explained that this system implements a controlled reshaping of the speaker's radiation and an ability to aim that radiation to create a "sweet spot" almost anywhere in the room. While it seems similar in concept to the Bang & Olufsen BeoLab90 speakers I reviewed in the January 2017 issue, Harman's goal is different. Both seek to free the sound from room influences by eliminating reflections, but SoundSteer also aims to allow users to place speakers and listeners freely but without compromising imaging. Interestingly, SoundSteer involves no microphone or on-site EQ.
All this was handily demonstrated by engineer Ulrich Horbach using the above-mentioned app. He let me drag the listener icon until the soundfield clearly snapped into focus like a stylus settling into a groove. That locus can then be saved and recalled, as can other loci where one might choose to listen in an open-plan living space.
Low frequencies were clean, even as one walked about; when asked how the system can avoid exciting any modes while putting significant LF energy into the room, Ulrich said that the narrow radiation control extends to below 80Hz, much lower than I would have thought possible. Indeed, with a solo bass fiddle playing at high levels, only the slightest tinge of room resonance was detected with one or two of the very lowest notes.
Did I say that they were running "wireless" via WiFi with up to 24/192 resolution? So, AC power aside (batteries, anyone?), the SoundSteer technology predicts the development of speakers that can be placed anywhere and enjoyed anywhere without compromising sound performance.
Source: Stereophile