HARMAN High Performance A/V Mobile Showcase Returns to the Architectural Digest Home Design Show in New York
3/15/11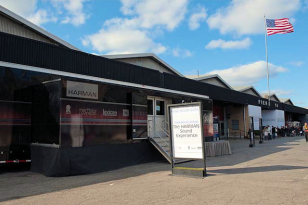 ELKHART, Indiana — The HARMAN Mobile Showcase, a 7,500 square-foot truck that houses a fully functioning surround sound home theater and an audiophile demo room, will be returning to the Architectural Digest Home Design Show this year. The show will take place March 17 – 20, 2011 in New York and will be open to the public.

The Mobile Showcase will give attendees a chance to experience a wide range of HARMAN High Performance A/V home entertainment components from JBL® Synthesis®, Revel®, Mark Levinson® and Lexicon® in an at-home setting. In creating the Mobile Showcase, HARMAN worked closely with custom installation firms and collaborated with architects and interior designers to create demonstration rooms that combine exceptional audio and video performance with elegant décor.

"We look forward to giving consumers and industry professionals a look at how high-end audio and video components can integrate beautifully into the home," stated Jim Garrett, Market Manager, HARMAN High Performance A/V. "The Architectural Digest show is the perfect venue for exhibiting our products to a wider audience who passionately care about design excellence – and who may never have experienced a custom-installation home theater or high-end music system before."

The audiophile room will feature a 2-channel audio setup with Mark Levinson components including the No512 CD/SACD player, No326S preamplifier and No53 monaural power amplifiers driving Revel Ultima2 floorstanding loudspeakers.

The home theater room consists of a complete JBL Synthesis multichannel audio system including K2S9900 main-channel loudspeakers, an SK2-3300 center channel loudspeaker, S4Ai surround loudspeakers and S2S subwoofers, SDP40HD surround processor/system controller, S820 amplifiers and additional JBL Synthesis components. A Lexicon BD-30 Blu-ray player rounds out the system, which also includes a high-end video projector and screen.

HARMAN High Performance AV components and loudspeakers are designed without compromise to deliver the ultimate in sonic realism and high-definition video quality. HPAV components are available exclusively from authorized dealers and custom-installation specialists.

For more information about the HARMAN Mobile Showcase, please visit www.soundthatstirsthesoul.com. For more information about the show, visit www.archdigesthomeshow.com

HARMAN (www.harman.com) designs, manufactures and markets a wide range of audio and infotainment solutions for the automotive, consumer and professional markets – supported by 15 leading brands including AKG®, Harman Kardon®, Infinity®, JBL®, Lexicon® and Mark Levinson®. The Company is admired by audiophiles across multiple generations and supports leading professional entertainers and the venues where they perform. More than 20 million automobiles on the road today are equipped with HARMAN audio and infotainment systems. HARMAN has a workforce of about 11,800 people across the Americas, Europe and Asia, and reported sales of $3.5 billion for the twelve months ended December 31, 2010. The Company's shares are traded on the New York Stock Exchange under the symbol NYSE:HAR.